Speaking Engagements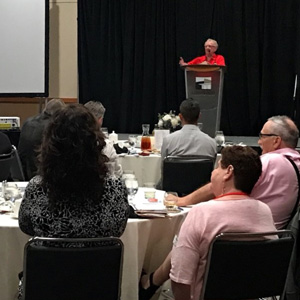 Sparky Taft is unique in all the U.S. for showing retailers HOW to do better and GROW their business in a weak, DOWN economy. Most advertising and marketing people talk in "Madison Avenue" language, filled with theories, philosophies and generalities. Most of these type of presentations leave businesses perplexed, confused and still filled with doubts and uncertainty.
Sparky Taft shows businesses SPECIFICS and explains proven, tangible ways they can get better RESULTS from their advertising and promotion. He gives good examples of promotions that work and how to create them.
Further, he explains HOW to better "partner" with media, to have the media give his/her business a better competitive advantage over ALL competitors.
Sparky is comfortable speaking to large groups, but he is a communicator that makes each individual in the audience feel like he is speaking and helping them.
$1,250 for up to 90 minutes plus travel expenses.
Volume purchases or sales of his books at the event can be negotiated.
These presentations are best suited for retail trade associations, business groups, franchises, etc.
Sales Workshops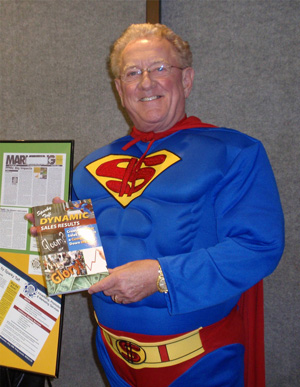 Over the years, Sparky has hired and trained some of the top professionals in the Northwest. His approach to broadcast sales training is much different that most all media groups. He can and will help any radio or TV station INCREASE local DIRECT sales by showing your sales staff HOW to more effectively CLOSE the sale and HOW to get local directs better RESULTS with your stations advertising.
Local direct advertisers have different objectives, goals and criteria than advertising agencies. Sparky Taft will show your sales staff how to READ body language, how to recognize when your sales staff is "reaching" the prospect and getting their attention, and what are the negative signs so your sales person can alter their sales approach.
Sparky Taft will also give important tips on creating promotions to help local direct advertisers get better RESULTS from your stations advertising.
With local direct advertisers, only ONE thing counts: RESULTS! Sparky Taft will share his experience and ideas of HOW to get each local direct advertisers better RESULTS so they will continue advertising on your station!
$1,750 for up to 3 hours, plus travel expenses.
Volume purchases or sales of his books at the workshop can be negotiated.
Customized Presentations
Sparky Taft can customize a presentation, speaking engagement and/or workshop to fit your needs and budget.
Private Consulting
Personal appointment – time, cost, and expenses to be mutually agreed upon
1 hour by phone $300
Contact Sparky Now!